Hey all you cool peeps out there! 
I'm excited to unveil to the whole World Wide Web, the cover art for my debut album, 
The Party Guest: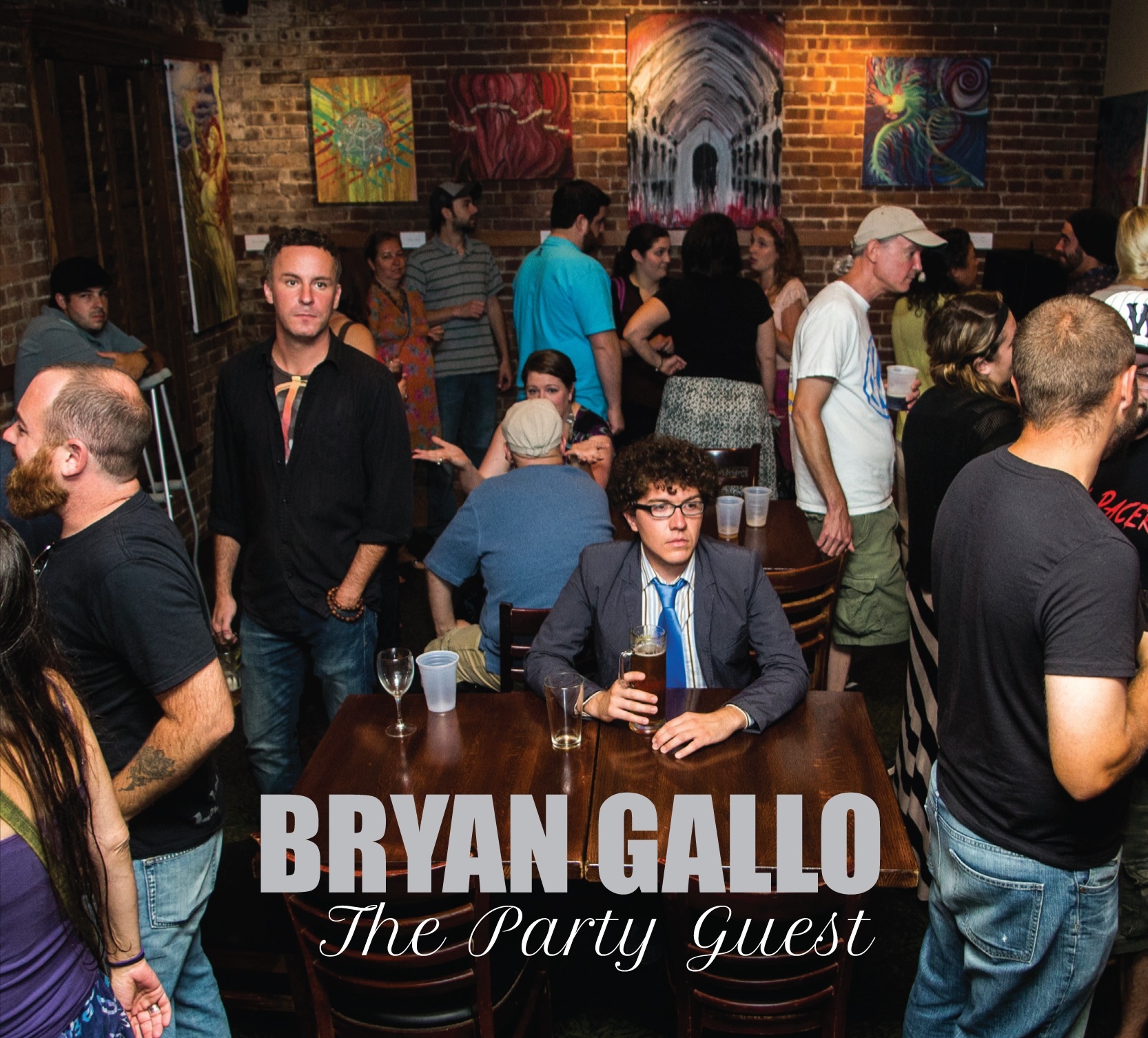 ... We took the photo at the Brick House Brewery's "Shand's Loft" in Patchouge, NY which is the cozy upstairs room used for catering and special events.  That evening, Anthony Comesso's first proper Art Show was in full swing, and I figured it'd be a perfect opportunity to capture a cover image for the upcoming album.  The Brick House & I happen to have a lot of history... I got my start as a solo artist by playing their Wednesday night open mic regularly, and since have landed several gigs I was glad to call my own (including one with Butchers Blind backing me this past Spring). Also, for anyone in the know, this is the exact spot where my infamous Birthday Roast took place a few years ago.  That big ol' mug on the cover (the one with the beer in it, not my serious face) is my BHB Mug Club glass... So it's pretty obvious that the BHB is one of my regular hangs.  There's always great craft brews on tap (made in house) and a regular cast of friendly faces.
As you can see from this photo, the BHB is pretty receptive and open to housing original art and music.  There were several shots taken upstairs that evening by the incomparable photog Fred Langstaff and this is the one we ultimately decided to go with.  Included (simply per chance) are several musician friends I know from the local scene and some other friends I've gotten to meet via my gigs and just hanging out on Main St. in the ol' P-Haug.  The photo seemed like the perfect fit for the theme of the album, along as a way to pay homage to those who helped me get to where I'm at today.  Finishing touches were added by the Jack-of-all-trades Mick Hargreaves with the text layout and just a sprinklin' of some magic dust.  (Mick also happened to design the rest of the CD art layout, recorded and mixed the album, and worked tirelessly to help make this album happen.) 
... I shared the art today via my Facebook page and my Instagram account, and the response was overwhelming.  It's great to know there's folks out there still rooting for independent artists, and without your support I know I couldn't be where I'm at today.  The album will be released officially on Thursday October 23rd, with a release show at The Patchogue Theater in Patchogue NY.  
I'll be backed by Butchers Blind (who served as the backing band on the album) and also billed for the show is the talented Singer/Songwriter & good friend of mine Chris J. Connolly (www.chrisjconnolly.com) who has an album of his own coming out very soon.  
We all hope to see you there on Oct. 23rd.. But until then, be sure to keep an eye out for further updates here and over at www.facebook.com/bryangallomuzak ... Some more surprises are in store soon enough! 
Take it easy erryone, 
-Bryan