The beginning few months of my 2018 performance schedule wound up being atypically busy, as both February and March had close to ten shows scheduled for each month.  Thankfully, April slowed down just a little bit, but still allowed the time for me to be part of some memorable performances.  Below is The "happy recap" of a few notable shows from April 2018:
* Friday, April 6th - 1867 Sanctuary Arts & Culture Center - Ewing, NJ *
In the month of March, I did two dates over in NJ with CO based Singer-Songwriter Emily Barnes.  Emily was doing a tour of the North East for a few weeks, and Emily did a few other dates to finish off her month of March while I came back to my homebase on Long Island to do perform some scattered dates and have a little down time.  Once I enjoyed some of my time off, I was excited to head back into NJ for another show with Emily that would also have my good friend and sometimes collaborator Pete Mancini joining us as well.  We had set up a weekend of two "Song Swap" shows "In The Round" (Nashville style) and the first of the two brought us to the 1867 Sanctuary Arts & Culture Center in Ewing, NJ.  The 1867 Sanctuary is a church that was built back in (you guessed it) 1867.  Aside from it being gorgeous architecturally, it also boasts some stunning acoustics.  Upon entering the venue, we noticed that every little sound can be heard with clarity and with a very nice natural reverb.  Emily, Pete, and I decided to ditch any sort of amplification and perform the show "au natural", without any microphones and go strictly acoustic.  Normally I would have my reservations about this, as I want to make sure that every audience member will be able to hear well enough, but thankfully our audience that evening were there to hang on every word, strum, and melody, creating quite the rewarding experience for both us and them.  (I would highly suggest that you check out a show in this venue if you live near the Western NJ/Eastern PA vicinity).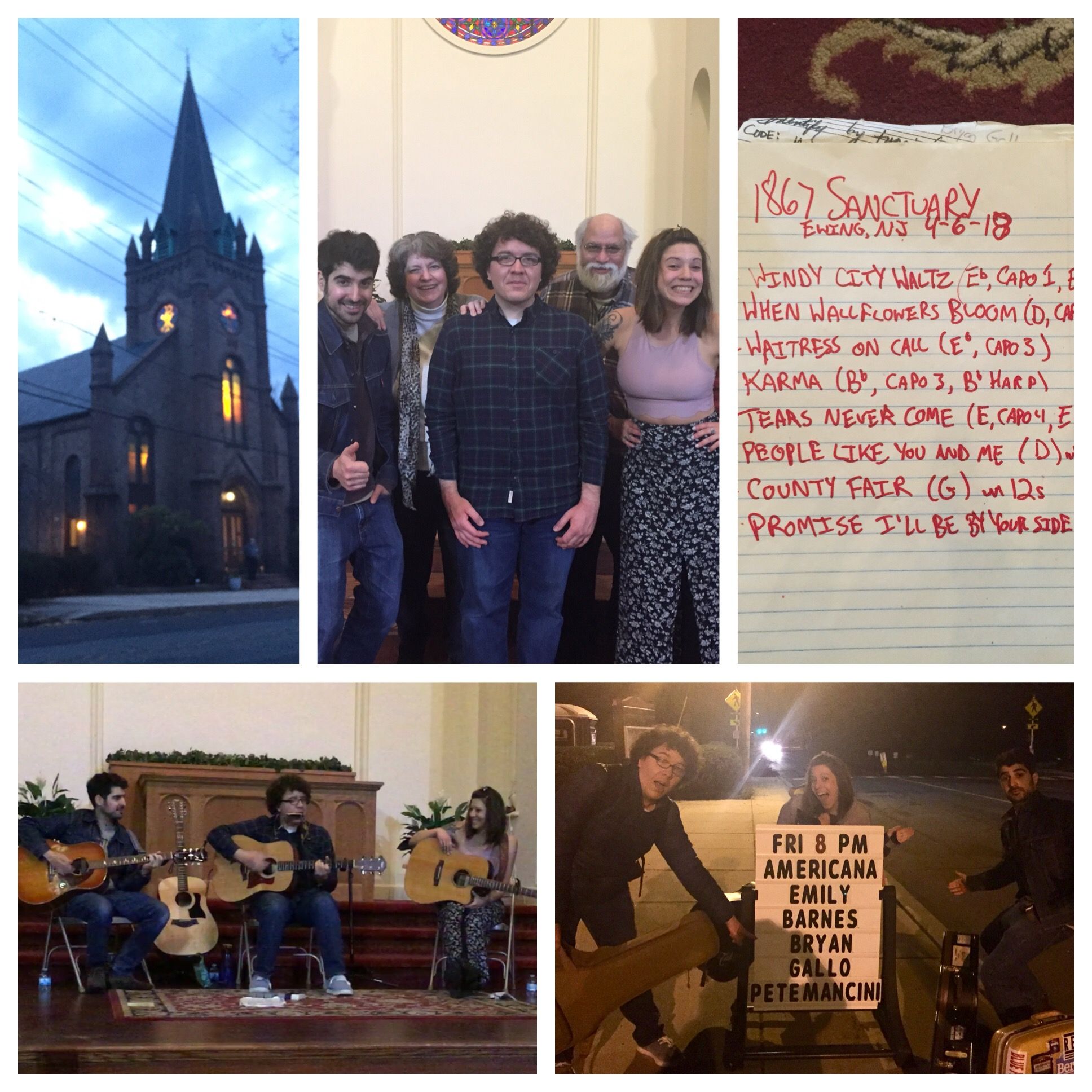 * Saturday, April 7th - Grey Horse Tavern - Bayport, NY *
After Emily, Pete, and I wrapped up the show at the 1867 sanctuary, we grabbed some food at the New Ewing Diner (HIGHLY recommended) and then headed back to our respective home bases to rest up for the show the following evening at the Grey Horse Tavern in Bayport, NY.  The Grey Horse Tavern (or simply "GHT" as many of us Long Island locals affectionately call it) is not only a restaurant reviewed favorably by the NYT, but also serves as one of Long Island's best venues to catch original live music.  I know the owners Linda and Irene well, and they are both very supportive of the Long Island music scene and original songwriters and this is why I was glad that we were able to do night two of the "Emily, Bryan & Pete Song Swap" at the GHT.  The environment was for sure much different than the show we did the previous night (for starters, they serve beer in a Tavern) but the audience was still engaged and entertained.  We certainly were able to crack a few extra jokes while on stage in a Tavern setting, and my own set list varied by a few songs here and there to suit the fans with drinks in their hands.  I can't say enough good things about the GHT.  It's one of my homes away from home, so be sure to stop in whenever they're hosting live music.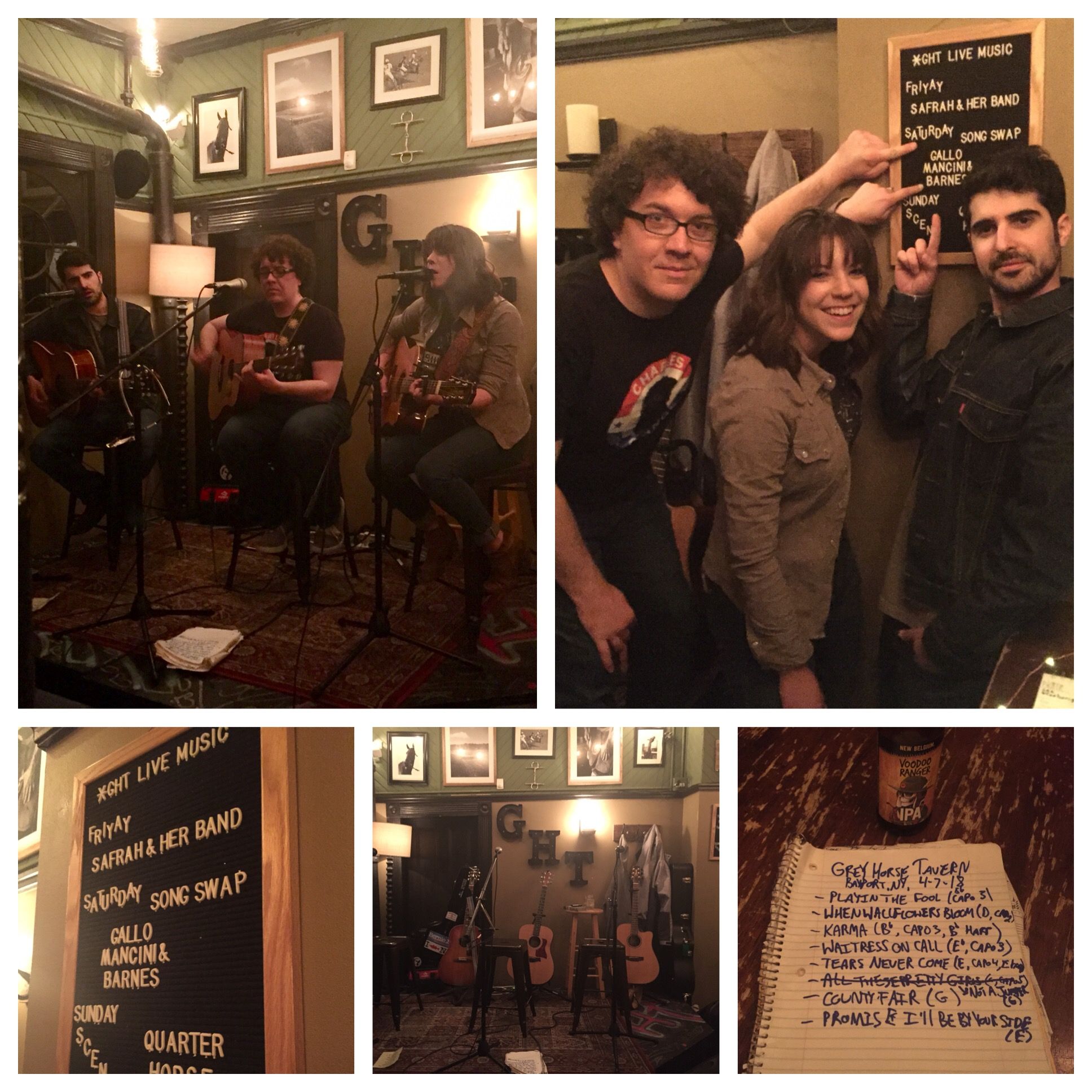 * Sunday April 22nd - Folkie Fest Presents: The 12 String Fling - South Bay Arts Studio - Bayport, NY *
In my teens when I started collecting records & CDs and started developing my taste in music via the various sounds that would come from those recordings, I realized I was drawn often to performers who used 12 string guitars on the regular.  I had become addicted to "the jangle", getting into groups like REM & The Smiths, and being drawn to plenty of songs by The Beatles, Bruce Springsteen, Tom Petty & The Heartbreakers, Led Zeppelin, and many others that featured the instrument.  (I even purchased an Epiphone Double Neck SG with my very first tax return check in my teens).  So when I was asked by Gail Field who runs and coordinated "The Folkie Fest" here on Long Island if I'd like to be part of an all 12 String guitar show, I gladly accepted.  The show was hosted at South Bat Arts, a music & arts space owned and run by Jack Licitra (of Jack's Waterfall & The Waterstreet Blues Band fame).  The afternoon included performances from James O'Malley, Shari Yeomans, Dawn & David Banks (aka Breaking Dawn), Connie Rae, and yours truly.  Each artist went up to perform a few songs of their own, as well as a jangle inspired cover song.  Each artist was also asked a few questions by Jack Licitra in order for the audience to learn about each person and their personal relationship with the 12 String guitar.  I forgot to take a photo from my set list that afternoon, but I performed "All These Pretty Girls", "On The Way Down", a cover of Tom Petty's "Learning To Fly", and "County Fair".  I was also the odd man out at the show, as I brought my Electric 12 string Danelectro, as my 12 String Taylor acoustic I had recently purchased was at my guitar tech getting fixed up after it experienced an unfortunate few cracks on its front and sides.  (It's since been repaired, and is ready to go back out for some live performances.)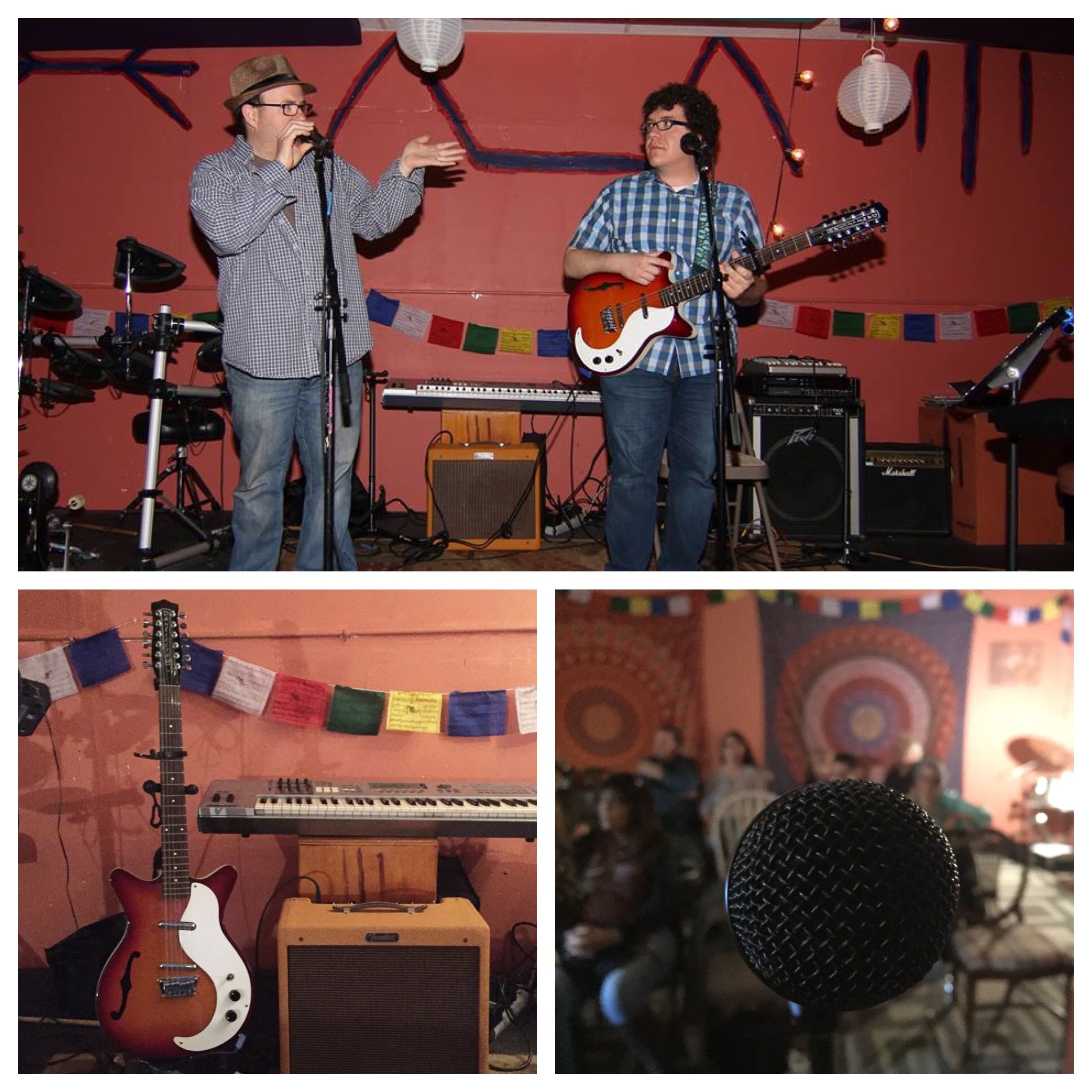 ... I sincerely enjoyed performing a variety of shows during the month of April, and it was nice having a little extra downtime as well.  As the weather warms up and we get closer to Memorial Day Weekend, down time is something I know I shouldn't take for granted as Summer rarely slows its roll as the "busy season" for us musicians.  I could complain, but why should I?  As someone out there once said, "Busy is good".  And if I'm busy because I'm making music for people who want to hear it, then I think I should say that I consider myself a very lucky guy.  -Bryan