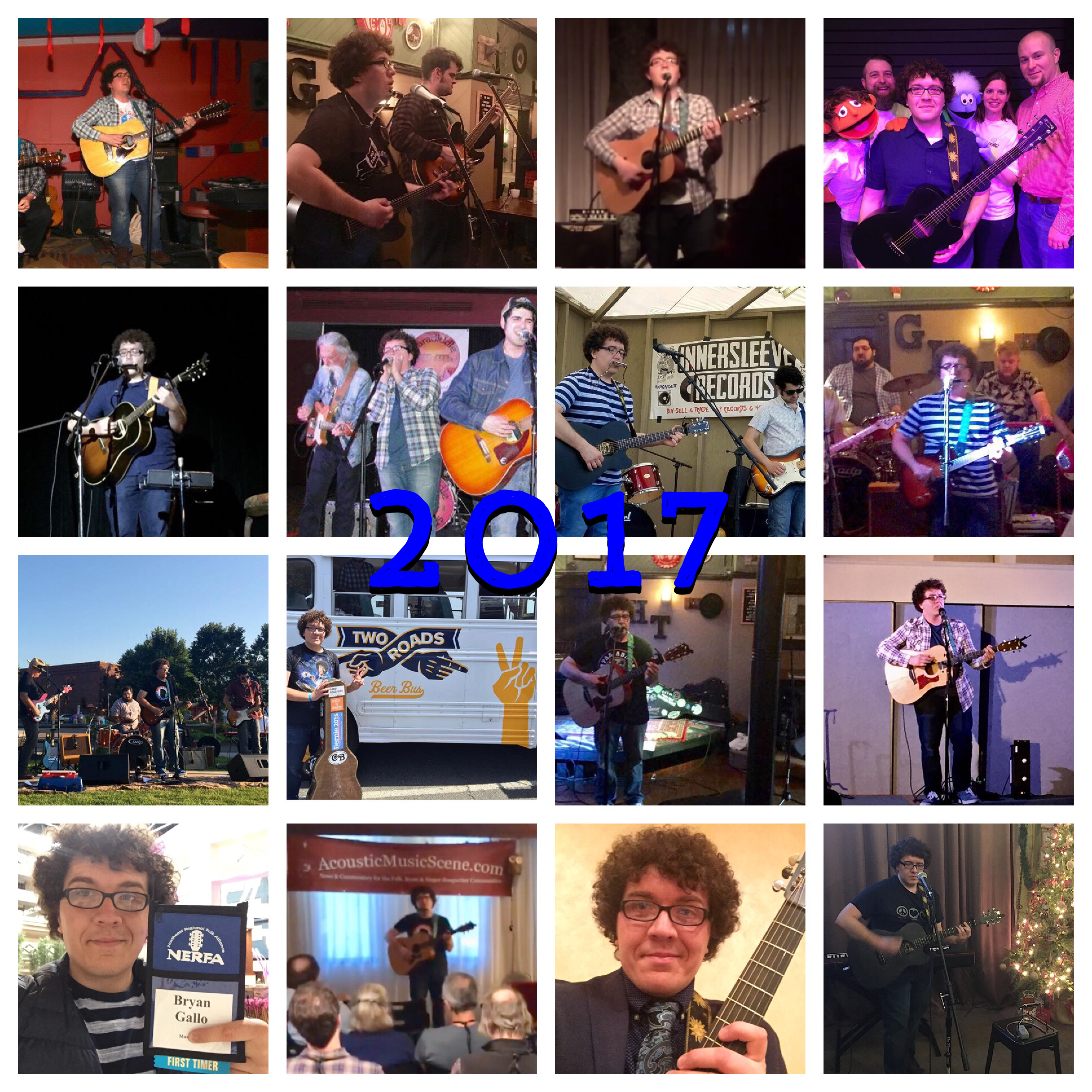 The year Two Thousand and Seventeen was quite a mixed bag.  On one hand, the whole world around us was experiencing a lot of change.  Some yelling "Hooray for our side", others, not so much.  On the other hand, even though things got a bit foggy and exhausting here and there, there was still music.  And plenty of it.
    I think it goes without saying, but thank goodness for the music all around.   I know all of the things happening in the world at large had an effect on me as well in one way or another.  But despite that, it was still a great year for me being there was plenty of music to be performed, listened to, and appreciated in these past twelve months.  I looked over my 2017 calendar to recap the year, and I had 98 total scheduled performances (and it's possible there were maybe even a few more).  I played in restaurants and bars, breweries and vineyards, theaters and listening rooms.  I had shows as a solo performer, as a duo, and with a full tilt electric Rock N Roll outfit.  I performed indoors and outdoors, to audiences both large and intimate.  Through it all, I was always reminded that creating and performing music for others is not just a passion of mine, but that for a small but meaningful blip in a 365 span, it helps both me and the audience take our mind from the "heaviness" of the world around.  
   As I sit to write this in the final hours of 2017,  I'm left to ask myself the cliche 'What are my New Years Resolutions for 2018?'.  I'd certainly like to get some new studio recordings out to everyone, so I'm hoping I dedicate some time this upcoming year to get those out to you, whether that means slowing down the live performance schedule, or just somehow bending time and making it all work.  I have a good handful of songs I tested in my  "full band" show this past year, and I think they'd all make great recordings.  I've been sitting on plenty of songs that have been written for a few years now that I think need official releases as well, and I'd like to get them out from being just "live set Nuggets" and instead to the ears of the masses.  I'm not yet sure of what release strategy I'd like to pursue, but when it happens you'll all be the first to know.  
   Also in this New Year,  I'm hoping to make some more time for new songs to come.  I've gone through plenty of new experiences in the past twelve months, and I've been writing plenty of lyrical ideas and taking the time to record ideas for vocal melodies or guitar riffs as soon as they come to me.  2018 will hopefully be the year of tying up all of the loose ends, and coming out with some cool new material to share with you all.  
   I'm just about headed out to spend New Years Eve among some family and friends, so I'll end this by hoping you and yours have had yourself a great 2017, and that your 2018 is even better!
-Bryan