If you happened to read through my recap of February 2018, you'll already know that I managed to wind up with an average of one show for every three days out of that month.  I happened to get an extra three days in March, and also had a few less performance dates.  I knew I needed to leave myself some extra time as opposed to what I had in February due to the fact that two of my shows this month saw me hitting the road and playing a little ways away from my home base.  (I also made sure to leave some time to hang with friends, and take in Tina Fey's Mean Girls musical on Broadway and had a chance to see Weird Al play a hilarious show at the Apollo.)  Without too much more ramblin' on, I'll give you some of the highlights from my performances in those 31 days.  
 
*Saturday 3/2/18 - 77th I.B.S. College Radio Conference @ Hotel Pennsylvania, NYC* 
I was asked by Norman Prusslin and the good folks over at WUSB 90.1 FM if I would be on the Musicians/Performing Artists panel for the 77th Intercollegiate Broadcasting Systems conference.  This was my third time being part of this conference, and it's always a blast getting to perform for and network with folks from so many great college radio stations from the North East.  In a world where there is so much competition for people's attention via different media outlets, college radio still remains a vital and essential way to really connect with a dedicated fan base.  So many of my music heroes were able to build their careers and reputations because of College Radio, and the great college stations are still places where independent and grassroots artists such as myself are able to get consistent support and recognition.  Radio, radio!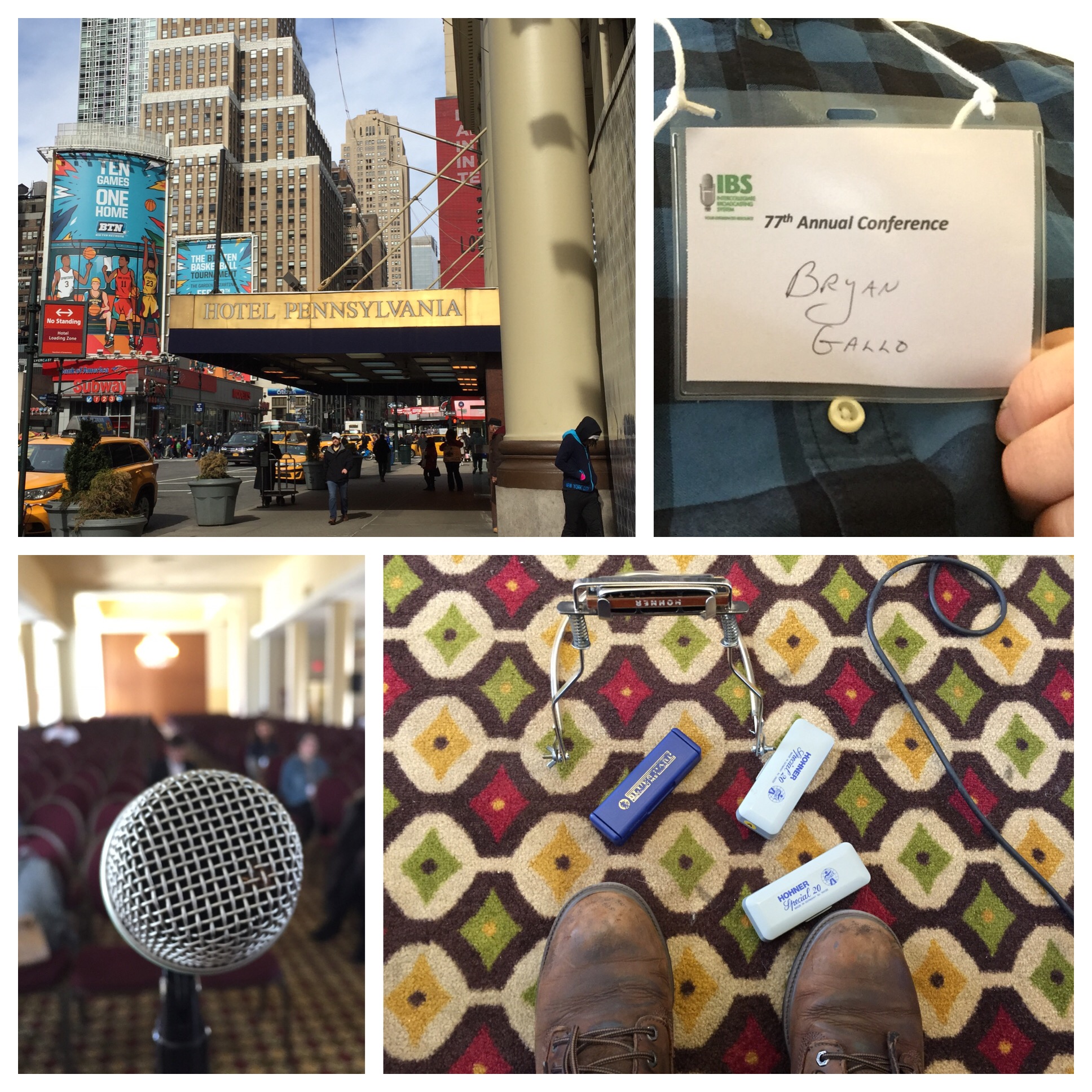 * Friday 3/9/18 - Peacesmith Coffeehouse @ The First United Methodist Church in Amityville, NY * 
This was a sort of last minute addition to the calendar, as the originally intended featured performer at the Peacesmith series for the month wasn't able to make the new rescheduled date because of the Noreaster the week before.  I was asked to come and perform by the series' host Rob Gilheany, and I available and more than happy to oblige. I've performed this series once before, and I've always loved the acoustics in the little performance auditorium in the church's second floor.  (It's really easy to perform using just one overall microphone.)  I got a chance to play some older songs, newer songs, and "regular favorites", all while helping to raise money and food donations for the Long Island Food Not Bombs program.  Far out!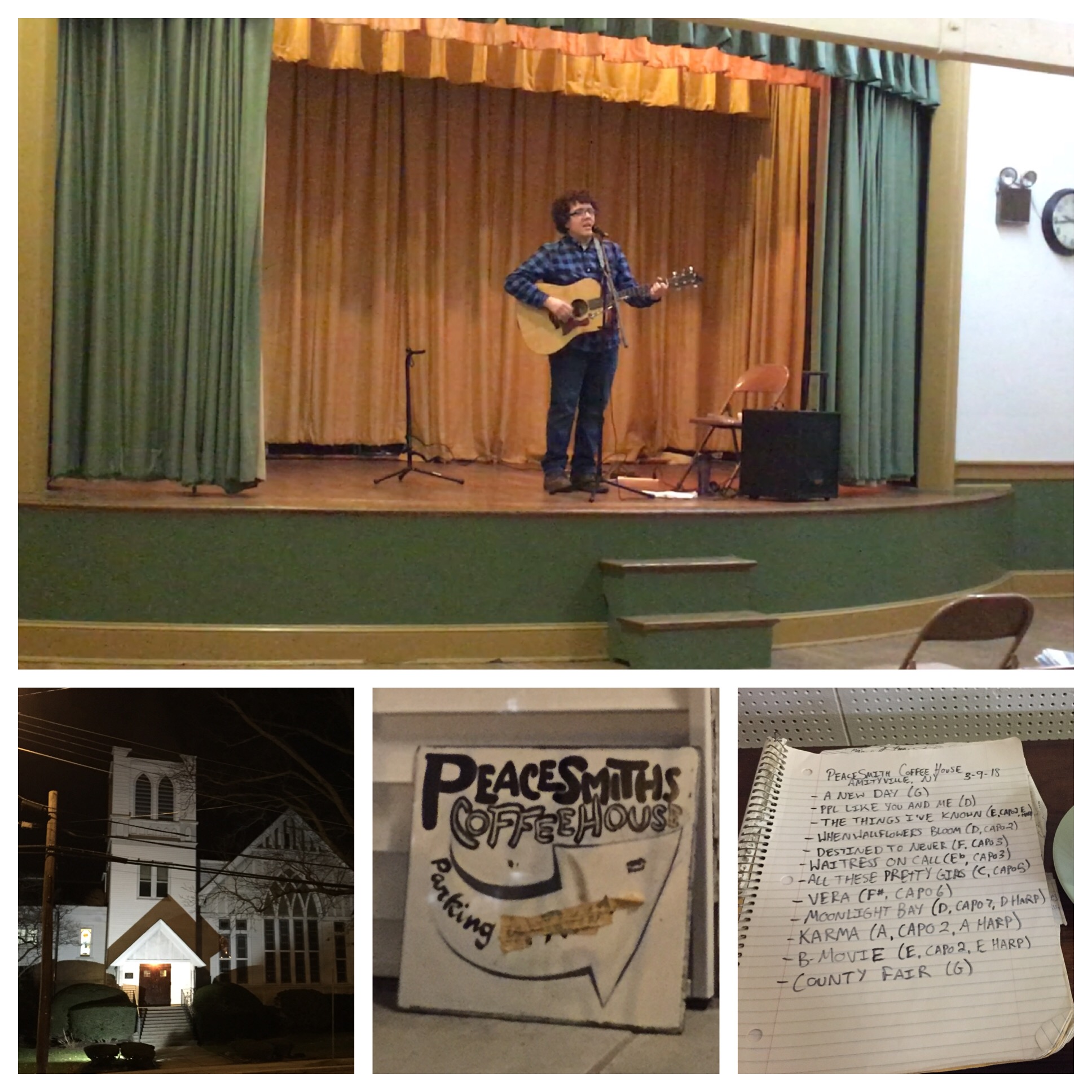 * Friday 3/16/18 - Dragonfly Music & Coffee Cafe w/ Emily Barnes, Letitia VanSant - Somerville, NJ *
For the longest while I've been meaning to perform some gigs away from my own home base with some more regularity.  After I attended the NERFA music conference at the tail end of last year, I met several musicians and venue promoters that are starting to help make that happen.  Emily Barnes was on tour of the North East and she and I set up a few dates together, and I'm glad that I was added onto this show that happened in Somerville, NJ that Letitia VanSant was on as well.  Letitia has been touring on her fantastic new album Gut It To The Studs that quickly has become one of my favorite releases of 2018 thus far, so it was a true pleasure to catch up with her and perform as part of the same billing.  Emily, Letitia, & I took turns performing some "round robin" mini-sets, and it was a great night overall at the Dragonfly Cafe.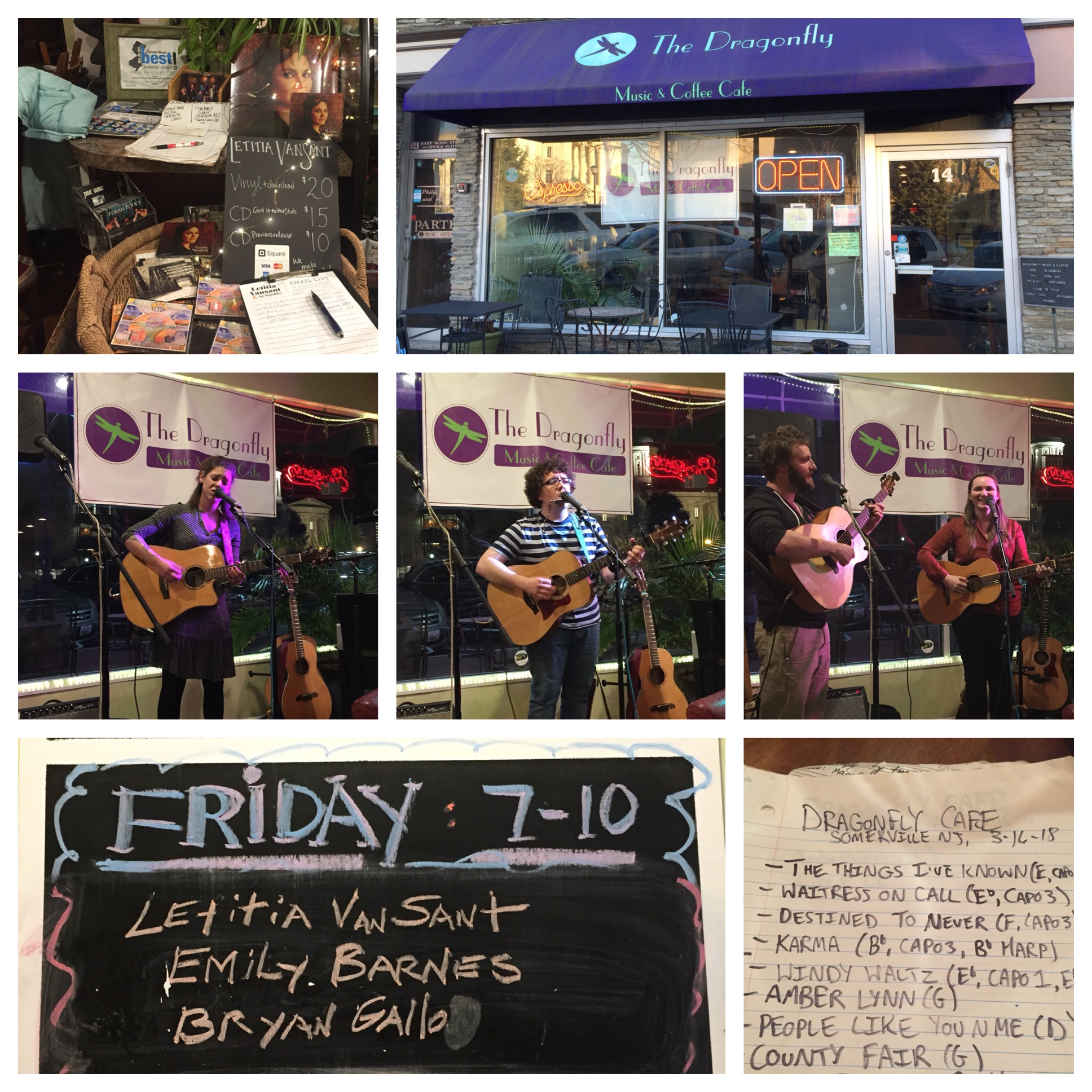 * Sunday 3/18/18 - Folk On Foul Rift House Concert (opening for Emily Barnes) - Belvidere, NJ *
I've attended a few really good house concerts as an audience member, but up until this show I had never performed as part of one.  When I had learned that there was a whole network of folks out there that host shows in their homes that happen to double as perfect performance spaces as well, I always wanted to get myself onto some shows in these venues.  There's something just magical about really being able to relate to your audience on a real one on one fashion, and get together with them before and after the performance to share a meal and get a chance to know each other.  That's why I'm very grateful that Emily Barnes had asked Brian McCloskey, the host of the Folk On Foul Rift monthly house concert series, if I could open up for her when she was stopping in to their venue.  Brian was open to me coming and starting the afternoon off, and I'm so glad that he was.  This was my first house concert that I've performed, and I would highly recommend it to anyone who may live in the Northern NJ/ North Eastern PA area.  Brian & Blair McCloskey do an excellent job in making sure both the performers and audience members feel welcomed and "at home", and they layout of the performance space allows you to hear every note and word perfectly and in an intimate setting.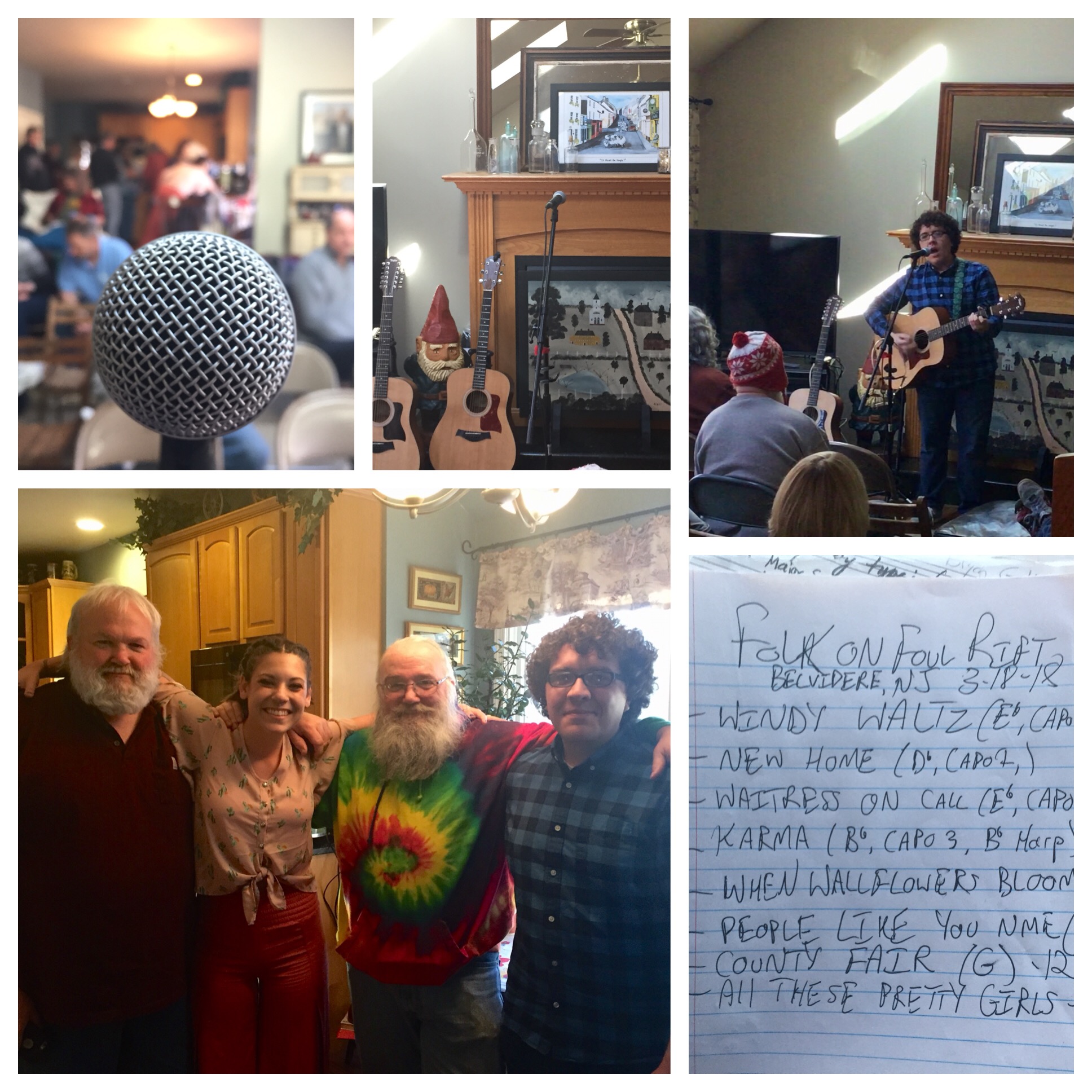 * Wednesday 3/28/18 - Featured performer at North Shore Original Open Mic @ Finley's of Green St. - Huntington, NY *
At this past year's NERFA conference, fellow Singer/Songwriter and all around good guy Toby Tobias had thought up the idea that many of us Long Island based musicians should get together in the hotel lobby for a late night jam and song swap.  Shortly after the conference, Toby reached out and asked if I'd like to be a featured performer at his weekly NOOM series that he hosts.  I was delighted that he did, because I had performed at his series two years ago or so when it was run at the now defunct Danyell's Kitchen in Northport, NY.  While that venue was cozy and inviting, the venue the series is held at now has a great stage and in-house PA system, and is a great blend of listening room and old school pub space.  There was an open mic that preceded my featured set, so I had a chance to hear and meet so many other songwriters before I hopped up to perform my set.  Huntington and the Northwest corner of Long Island is known for its storied history of hosting and supporting Folk music and Singer-Songwriters (including many legends like Pete Seeger and Harry Chapin) so it was a true pleasure to perform for an audience that appreciates song craft and can also "talk shop" with you about it afterwards.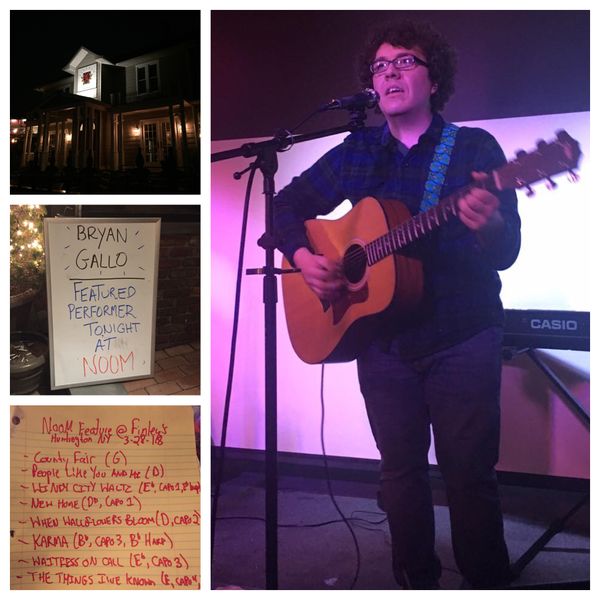 * Friday 3/30/18 - C'est Cheese (trading off sets w/ Rorie Kelly) - Port Jefferson, NY *
C'est Cheese is one of my frequently recurring gigs on my home base of Long Island, and mostly I'm performing favorite cover material of mine as an "entertainment" gig.  It turned out that Rorie and I discovered that we were both accidentally booked on the same date, so we decided to split the evening by trading off some shorter sets to fill the time for the evening.  (We've both known each other for quite some time from the Long Island music scene.)  The evening wound  up going over very well because not only do Rorie and I both perform enough material that pretty much delivers a little bit of everything for the audience to hear, but it also allowed us to perform out own songs for an audience who came to learn that they enjoyed our original songs just as much as the cover material they were already familiar with.  It was a win/win/win: the more  that people are exposed to  new and original music instead of some of the same old expected "bar room standards", the more chance there is that an original music scene can grow in an Island  full of nostalgiac cover bands and tribute act.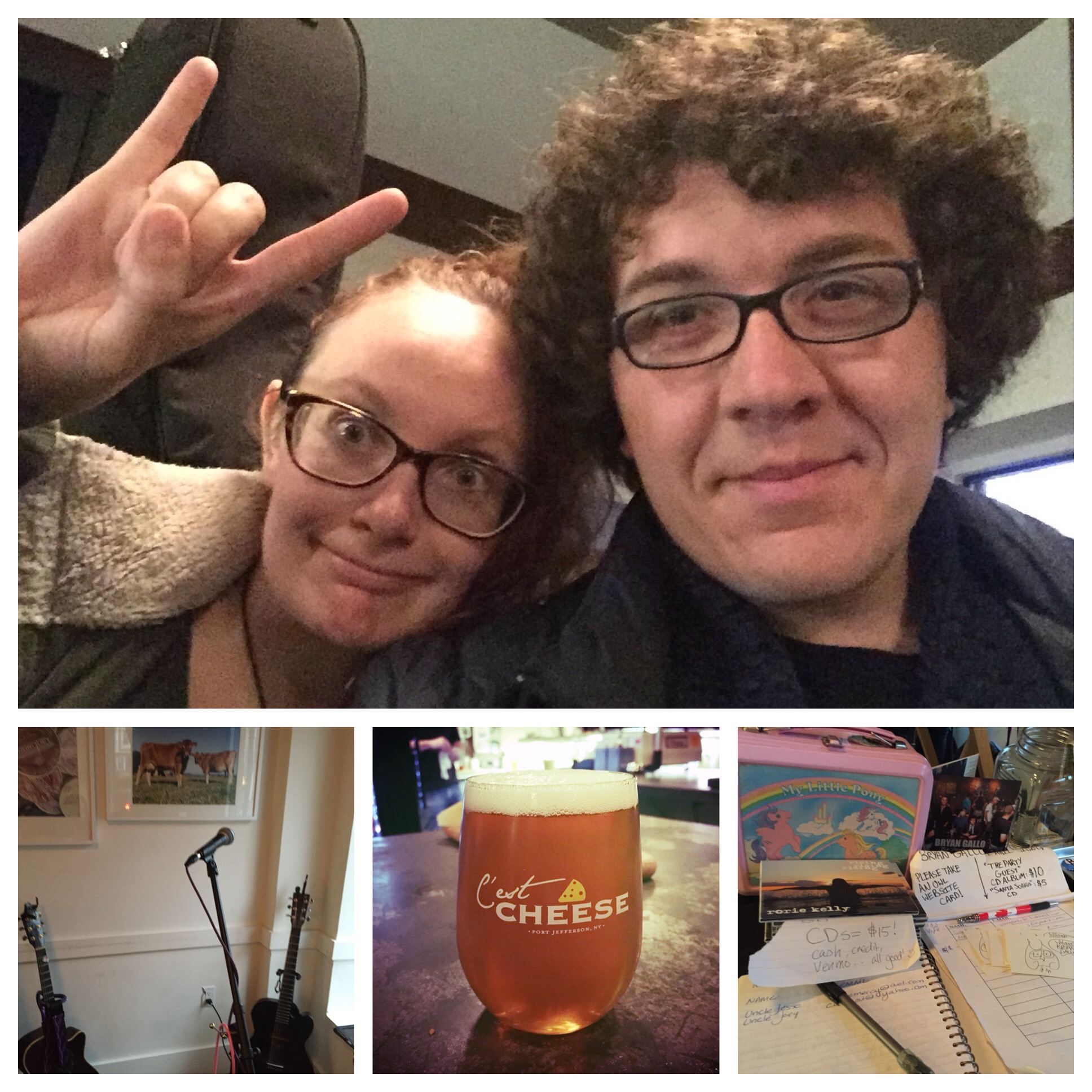 ... So as I write this now reflecting on the month of March in the month of April, which also by happenstance also happens to be in the early morning hours off my birthday, I'm still learning that no matter how many things you feel you may have done already as a musician (or whatever your niche in life happens to be) there still is plenty more new to be done.  Here's looking excitedly to the "march" forward toward new opportunities and towards roads I've yet to meet.  -Bryan