I always look forward to the time of the year where we gain some more daylight hours.  I definitely feel I become a little more productive, and have a bit more "pep in my step".  I suppose the Sunshine will do that for ya.  I'm not the biggest fan of the heat though, but luckily for me June of 2018 saw some extended Spring weather along with those longer daylight hours.  It surely was a treat, and was even better that I had some cool gigs & events throughout the month.  Here's a quick recap of a few of them: 
* Saturday June 2nd - Homegrown Long Island WUSB Radio Show - Stonybrook, NY *
It had been quite a while since I had visited the studios at WUSB to be on air.  "The Most Dangerous Station In The Nation" is one of the longest running free-form, commercial free College Radio stations in the U.S., and they are very supportive of the Long Island Music Scene.  It had been so long in fact, that I had yet to visit their brand new studio digs, as the old studio went down with some renovations to different buildings on the Stony Brook University campus.  While the old charm (and antique dust) of the old studio will of course be sentimentally missed, their new upgraded equipment and studio rooms were absolutely fantastic.  It was a true pleasure being on Dj Bobanero's Saturday morning Homegrown Long Island program, where I played a few of my as of yet unrecorded tunes, talked about my Summer show schedule, and the Long Island scene.  I was also glad to see that they held onto the VERY old original broadcasting board that came with the original studio and that they were using all the way up until they moved to their new space.  It's always awesome to be part of anything that's "Left of the Dial".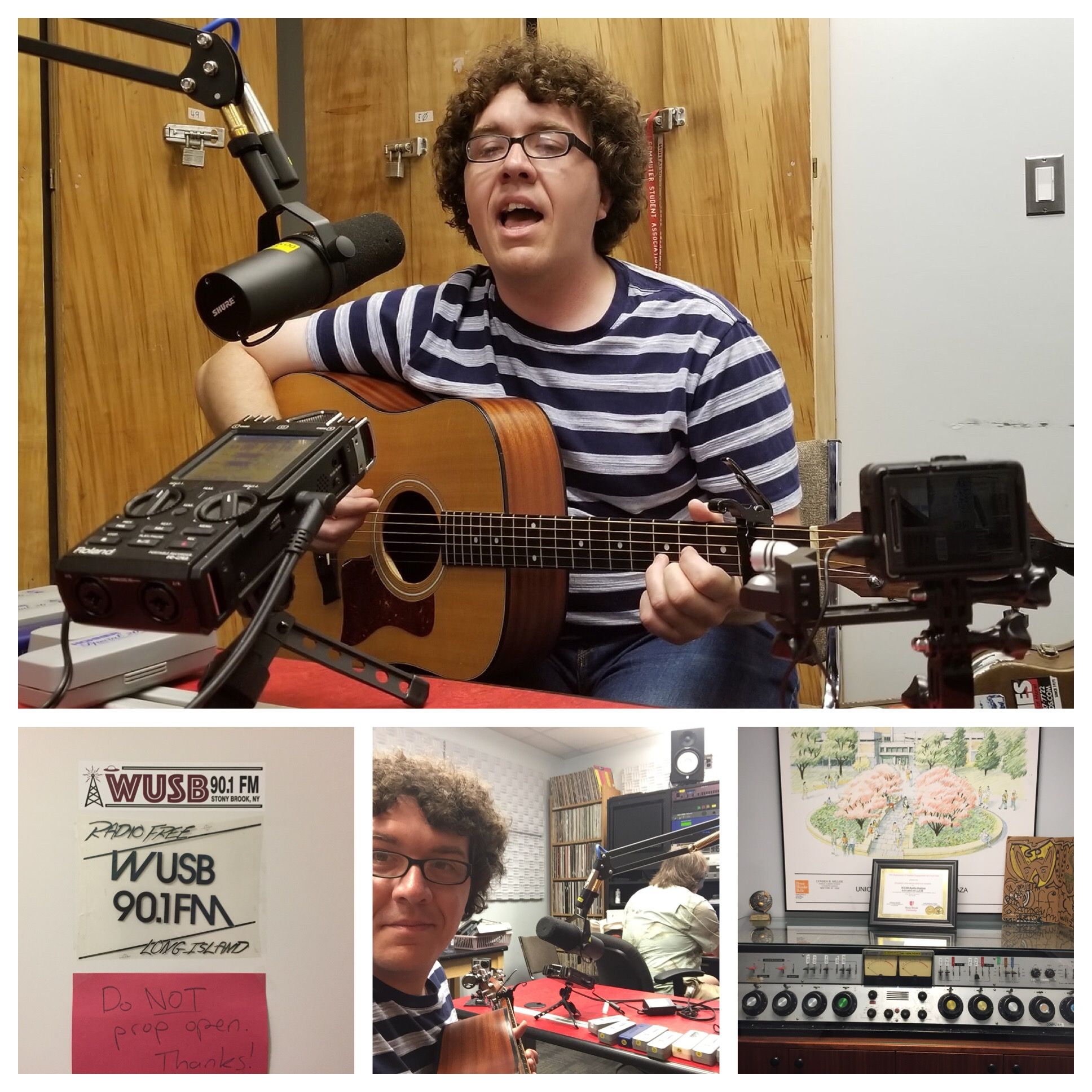 * Wednesday, June 6th -  "East End Opry" at The Milk Pail - Watermill, NY  *
The "East End Opry" is a rotating music series featuring various Long Island/NYC based singer-songwriters that is hosted and curated by fellow Long Island singer-songwriter Fred Raimondo.  The series changes venues from time to time, and for the Spring/Summer it was decided that it'd be at the outdoor venue of The Milk Pail in Watermill, NY, out East on Long Island's South Fork.  The obvious issue with having any outdoor shows is that they'll be contingent on weather.  I was initially scheduled to play the series in May, but a string of rainy days early in the month forced me to reschedule for June.  Luckily when this date rolled around, the weather held up (beautifully) and I got a chance to perform a nice long set of my own tunes.  It was a splendid venue, and a fantastic night overall.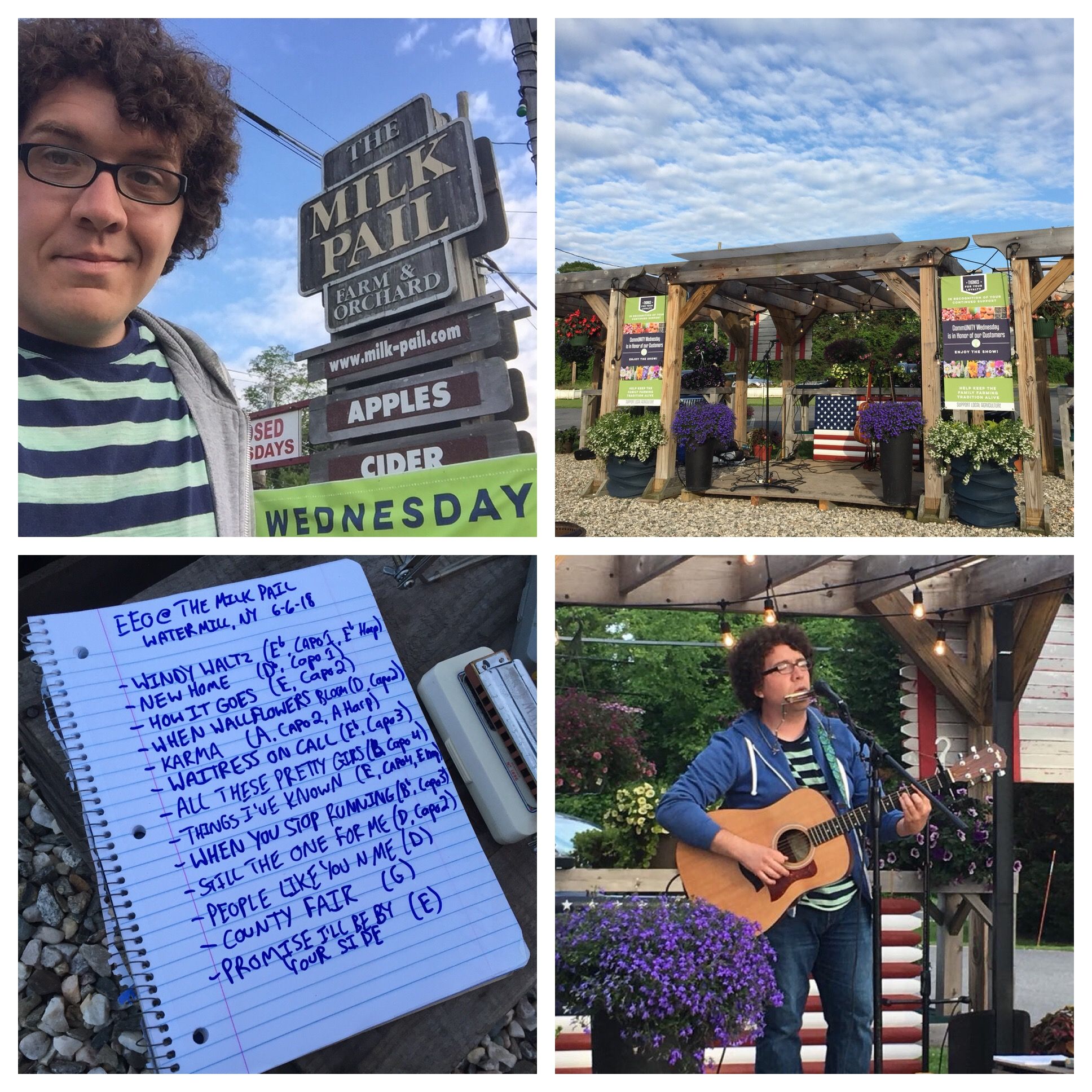 * Saturday June 9th - Po'Boy Brewing (opening for The Traveling Ones) - Port Jefferson Station, NY *
I had the pleasure of being asked by Dj Trevor from WUSB's Country Pocket radio program if I would open up for The Traveling Ones, a duo who would be on tour from Nashville and making a Long Island stop at Po'Boy Brewing in Port Jefferson Station, NY.  It was part of a series that the Country Pocket program looks to host a few times a year at Po'Boy to get some touring Roots/Americana artists to come on into our little glacial deposit that we call home. I'm very glad that Justin & Emily of the Traveling Ones agreed happily to brave the bridges and Long Island traffic to come out this way, as their music was VERY well received among us Long Islanders.  They played their own well written songs while adding in a mix of Americana classics as well.  (I very much enjoyed their version of Gram Parson's "Return Of The Grievous Angel").  I don't think anyone got a chance to snap a photo of my performance, but my setlist from my opening set is included in the photos below.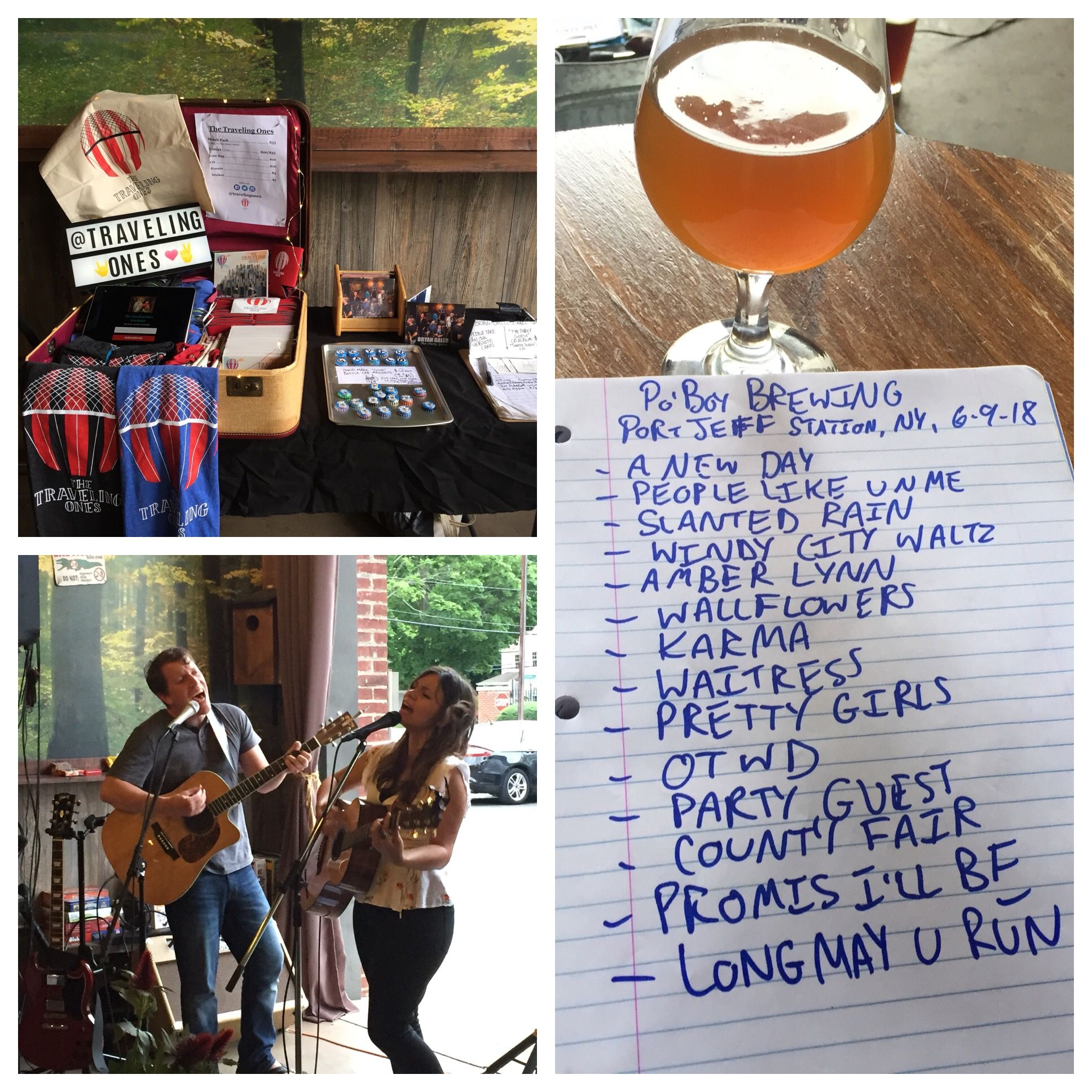 * Friday June 15th - Swing The Teapot (w/ Erik Semo) - Floral Park, NY *
I have performed at Swing The Teapot a handful of times in the past years, but only with short sets doing some opening stuff for when the Butchers Blind crew were having a monthly residence at what was then their "hometown venue."  I'm glad that I got a chance to set up a show of my own at this wonderful spot, and in the process of setting it up I got to talking with another singer-songwriter friend of mine Erik Semo (because I knew he had been doing a few recent shows at the Teapot) and we decided to split the night.  We each played long sets of our own, and got together at the very end to perform some off the cuff cover versions of tunes by our favorite writers.  All in all it was an enjoyable night with a great attentive crowd. (And the Gunniess was "perfect", as you may expect it to be in a bonafide Irish establishment.)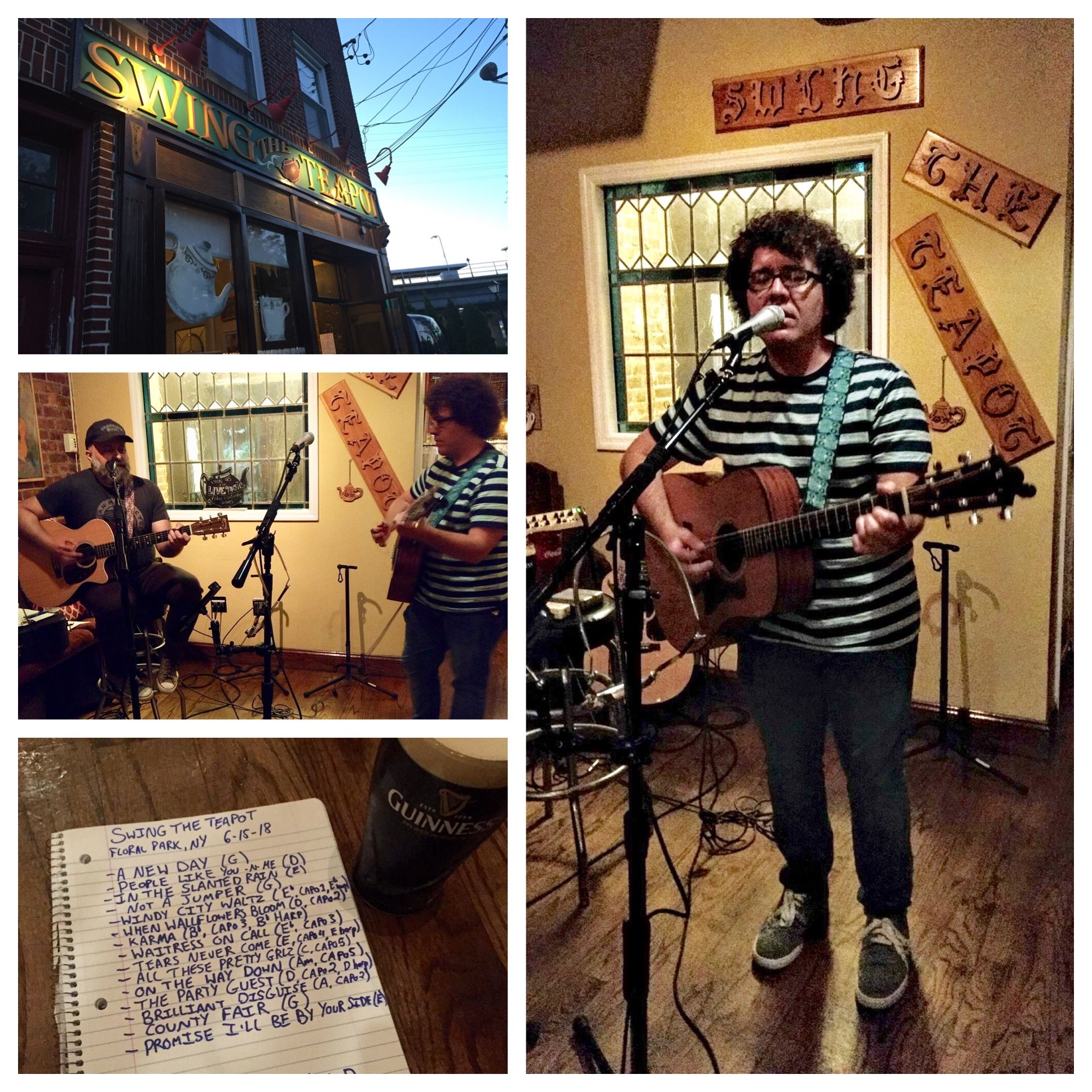 * Sunday June 24th - Bryan Gallo + his Band @ Arts On Terry Festival - Patchogue, NY *
This was the very first full band show I had lined up for 2018, and I was looking forward to it greatly. I dusted off my old Fender Jagstang that I used back in the day with my High School band Attic Space, and figured I'd give it a go for these full band arrangements.  The Arts On Terry fest was a fine afternoon where many visual artists, sculptors, and musicians gathered on Terry St. in Patchogue, NY to showcase their works thanks to the generous funding of the Patchogue Arts Council.  There was a great stage and sound system for the afternoon (thanks to Kevin Weiser of Blue Owl Art for putting together the music lineup, and to Ryan D'Amico for bringing and running his sound rig.)  I had Mick Hargreaves with me on bass + vocals, Pete Mancini on guitar + vocals, and Nick Balzano on drums.  This was my first full band outing in a while without having a keyboard player in the mix, but it gave me a chance to do some cool "interweaving" with Pete on his guitar parts.  We played some old favorites, a few newer ones, and an impromptu cover of AC/DC's "You Shook Me All Night Long", with me in my best Brian Johnson voice.  (Yes, that happened.)  It was a whole lotta fun, and made me even more excited for the other upcoming full band shows this Summer.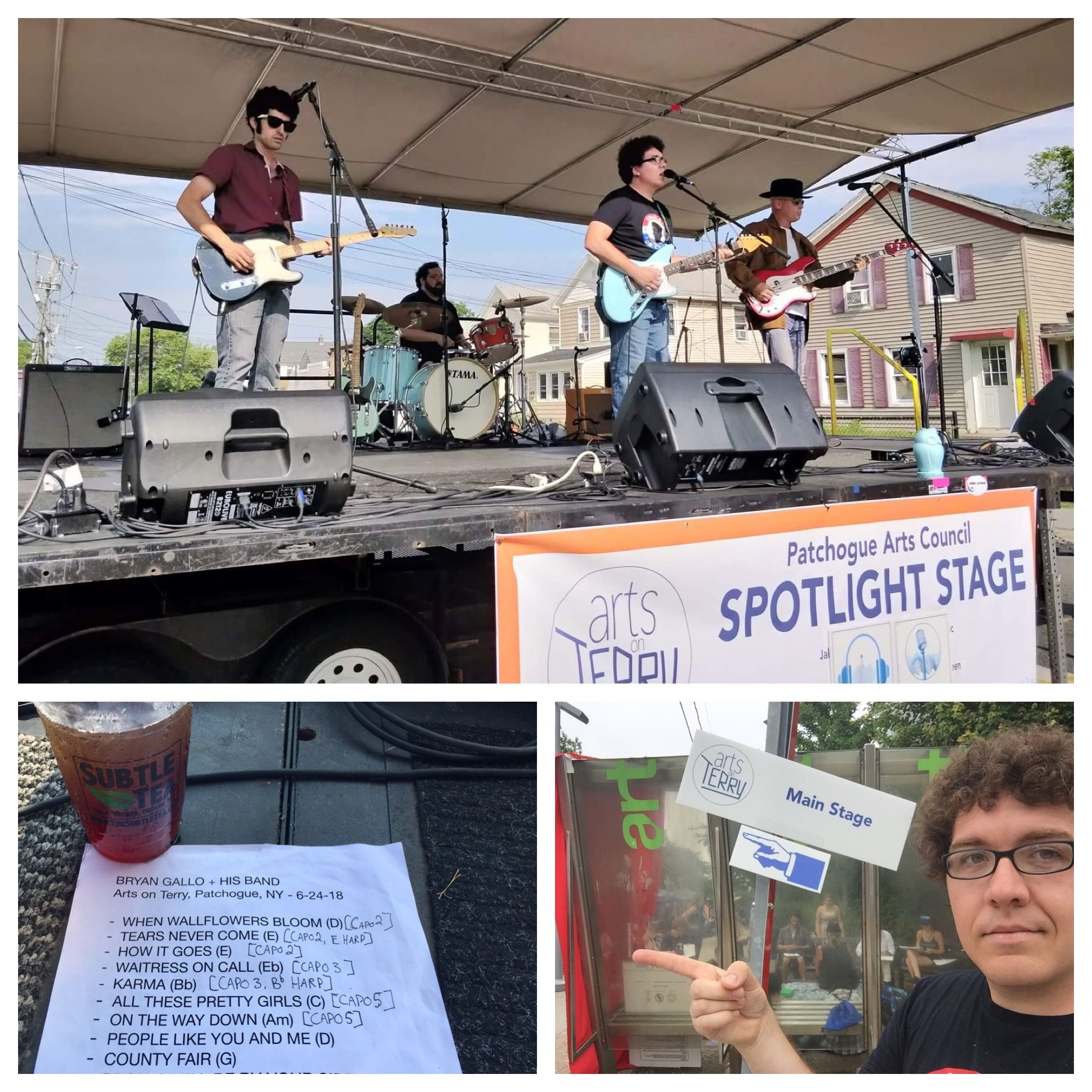 ​​​​​​​