It's often said that for working musicians, that the Winter months are the "off months".  The common idea is that artists get booked less in these months because there's more audiences are more receptive to head out to a show once the weather is warmer,  the daylight hours are longer, and they don't have a fear of running into any undesired travel conditions.  Usually we musician take the Winter months to get our bearings together, maybe work on recording or wood-shedding some new material.  Oddly enough, this year started off with the shortest month of the year tricking me into thinking that Summer may have come early, as I wound up with nine scheduled shows.  They were in all sorts of venues around Long Island, and varied in format.  Here are the highlights from a few of them....
* Friday 2/2/18 - Acoustic Showcase hosted by My Jam Music Network at the Brewer's Collective in Bayshore, NY.  *

My Jam Music is run by a fellow musician John Nagle, who works tirelessly to put together shows around Long Island and the NYC area that showcases original singer/songwriters and bands.  There was a full lineup of talents that evening, including some that I've known for quite a while including Richard Lanahan and Toby Tobias, and some such as Dani Christian that I got to hear for the very first time in a live setting.  The craft beers at this spot were FANTASTIC and kept us warm on what wound up being a crazy cold evening.  We had a full band jam at the end of the evening pulling out some favorite cover material we all knew, and I got the chance to sing Neil Young's "Down By The River" sans my guitar... which felt pretty liberating getting to rock out and just be a bonafide frontman singer type.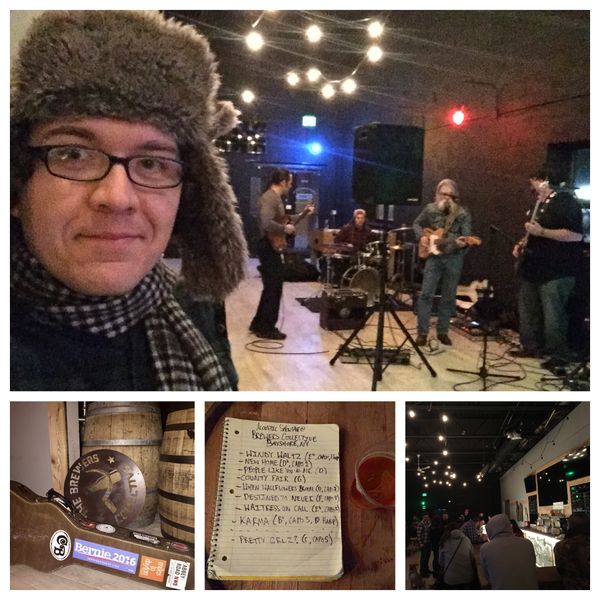 * Sunday 2/4/18 - Buddy Holly Tribute Show hosted by Shecky & The Twangtones Duo - Grey Horse Tavern - Bayport, NY *

I was absolutely delighted and honored to have been asked by Shecky of the Long Island Surf Rock & Roots band Shecky & The Twangtones to hop onto their Buddy Holly Tribute show at the Grey Horse Tavern in Bayport, NY.  I'm pretty certain that it's safe to say that anyone who fancies themselves a songwriter has to pass through Buddy Holly's largely influential work at one point or another.  Our show took place 59 years and a day after the infamous "Day The Music Died" (when Buddy Holly, Richie Valens, and The Big Bopper passed unfortunately and untimely in a plane wreck) so we were looked to play  the songs that Buddy wrote and performed to help keep the music alive.  My set included "Everyday", "True Love Ways", "Raining In My Heart" and "Learning The Game".  I had to take a few days to get some of the songs just right, but I'm very glad that I did.  Shecky & Uncle B added some additional guitar and percussion, and the songs turned out great.  Despite the show being on Super Bowl Sunday and starting only a few hours before kickoff, we still had a great crowd and have already discussed reprising the show again around the same time next year.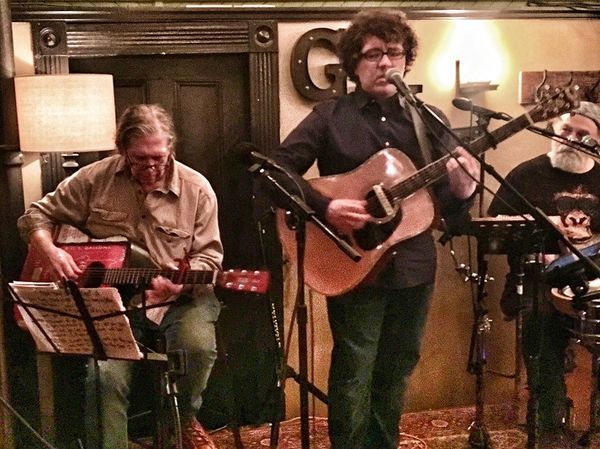 * Saturday 2/17/18 - Folk Fest hosted by My Jam Music Network - Tap & Barrel - Smithtown, NY *
John Nagle & his My Jam Music Network once again put together a really fantastic lineup of original music for this show.  Even though my set was scheduled for a little after 10pm, I arrived around 6pm so I could catch a bunch of acts before me.  (If you're curious to know who else was on the billing, check out the flyer in the collage below).  We wound up having a last minute snow storm that lasted for a few hours, but despite the weather, plenty of folks still came out for great craft brews and original music.  A win/win for sure!  As the night rolled on, I somehow got wrangled into playing some rhythm guitar and singing some lead on a set of cover material for the late night boozers.  I solely objected to performing "Margaritaville", because even when the folks is drinkin', a contemplative singer-songwriter such as myself has gotta go home knowing he didn't incite a "SALT, SALT, SALT!" chant.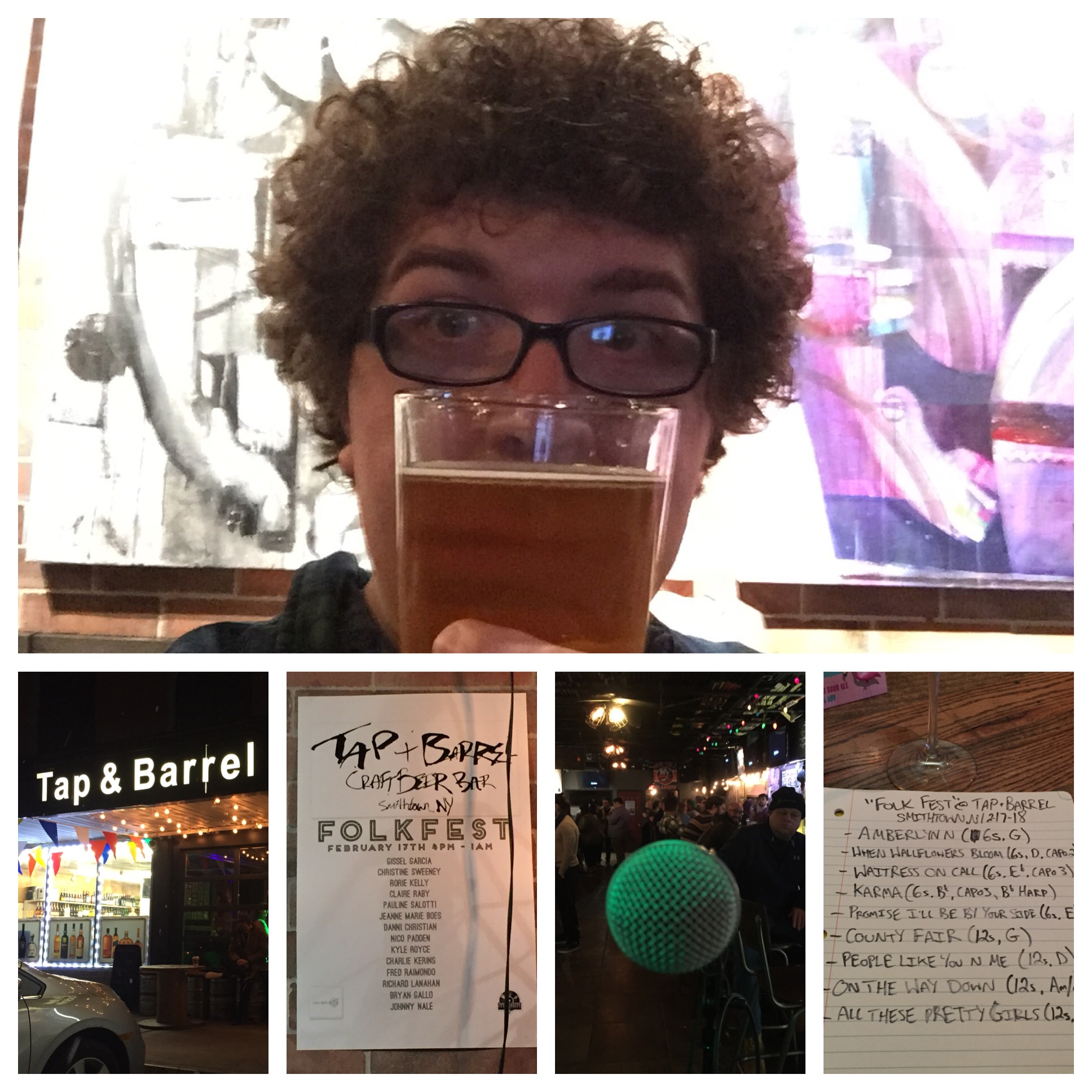 * Sunday 2/18/18 - Clovis Point Vineyard - Jamesport, NY *
Clovis Point is a fantastic winery on Long Island's North Fork, and is one of my regular gigs that I really enjoy playing.  It was an unseasonably warm February afternoon, and it also happened to be my Mother's birthday.  She was in attendance, and if you guessed that I got everyone in attendance to sing her "Happy Birthday", you should go play lotto today because you guessed correctly.  It was also a notable gig because I got a chance to use my newly purchased Taylor 12 string acoustic at length, and I also performed under my new alias "Byran Gallo".  Actually, it was a misspelling on the chalkboard that no one, including myself, seemed to notice until I was already onto my last set of the afternoon.  We all had a good long laugh over that one.. and now I have a new alter-ego stage name to use if I ever need it.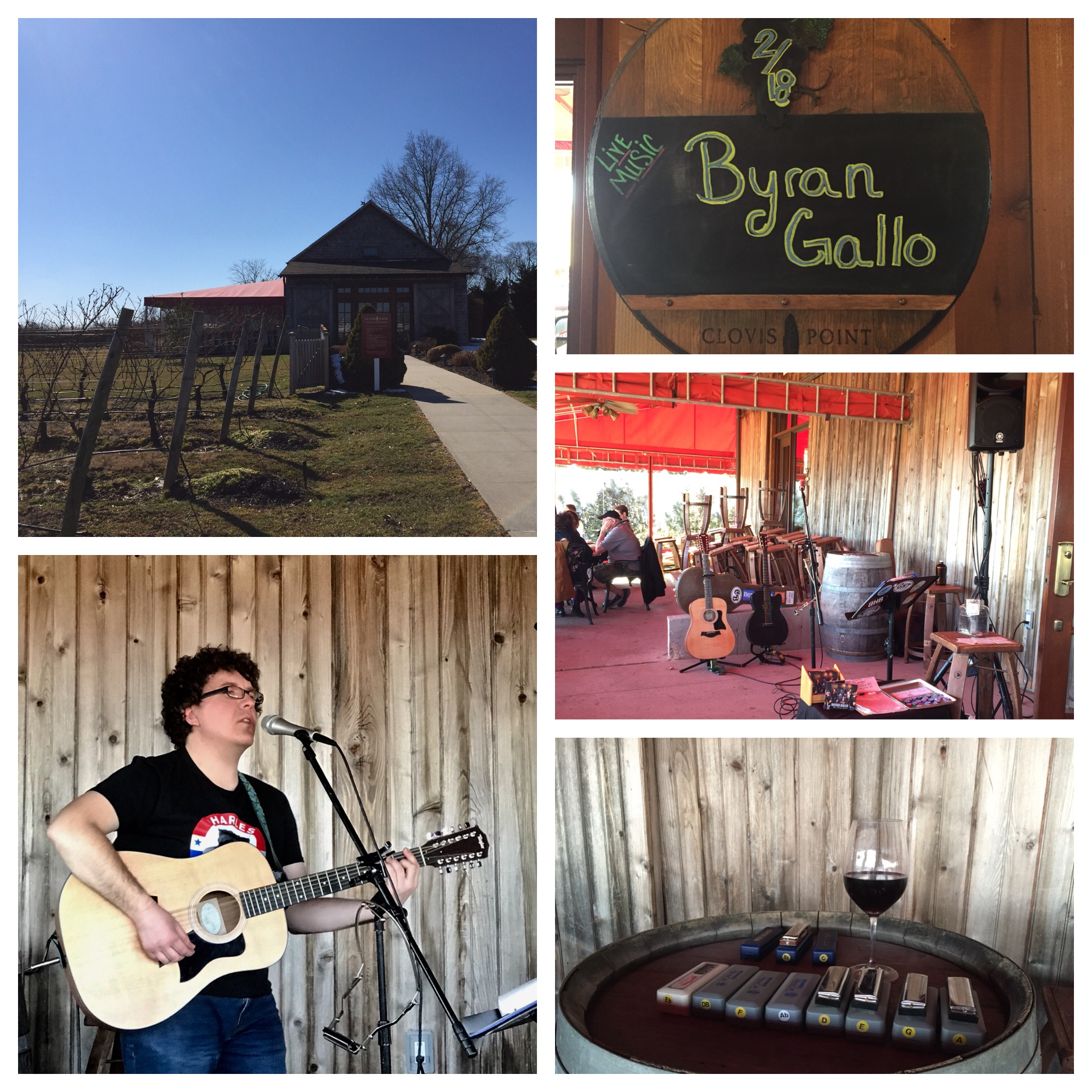 * Thursday 2/24/18 - Cabin Fever Music Festival show at Southampton Publick House - Southampton, NY *
It's hard enough to get people to come out for a show on a weeknight sometimes, but on a weeknight in February?!  The Cabin Fever Music Festival here on Long Island looks to get people out of their house during the doldroms of Winter to experience some local, live music.  I've been part of this festival lineup before, and it's always a blast.  This year brought me to a show at the Southampton Publick House in Southampton, NY.   My good friend Mick Hargreaves was on the bill for the evening, and the fellas from Earth Real filled in for Andrew Cooper who wasn't able to make it last minute.  Mick hopped in on a few songs with me during my set, craft brews were drank, many guitars were played, and we all defeated the Winter weeknight bummer trap.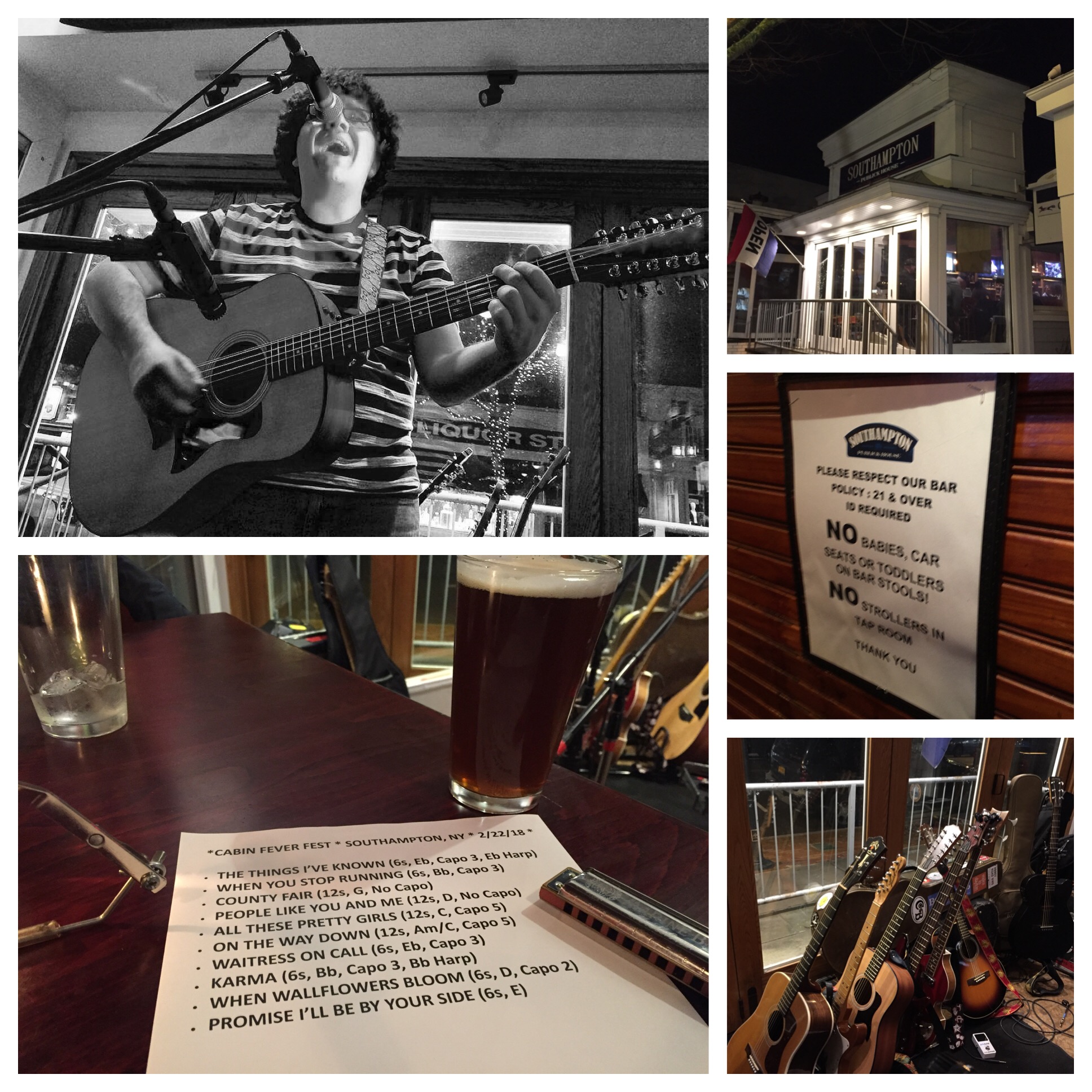 * 2/28/18 - Music From The Hive Songwriter Series - Still Partners - Seacliff, NY*
Just when I thought I couldn't keep awake much longer, another weeknight gig popped up in my schedule on the very last day of the shortest month of the year.  I had booked this one several months before 2017 had ended, and I was very excited when I did.  It was an "In The Round" songswap with Cecilia Kirtland, Eli Maniscalco, Hank Stone, and myself.  I had only wished that me or someone else had set up a video or audio recording device for the evening, because the songs and stories handed from each performer to the other were done in such an entertaining and magical way, that I think a second show with the same format and lineup should be in order.  We all were writers coming from different views and angles, all with different timbered voices and personalities. Isn't that what a good show is all about?  Anyway.. here's some photos I managed to capture from the evening...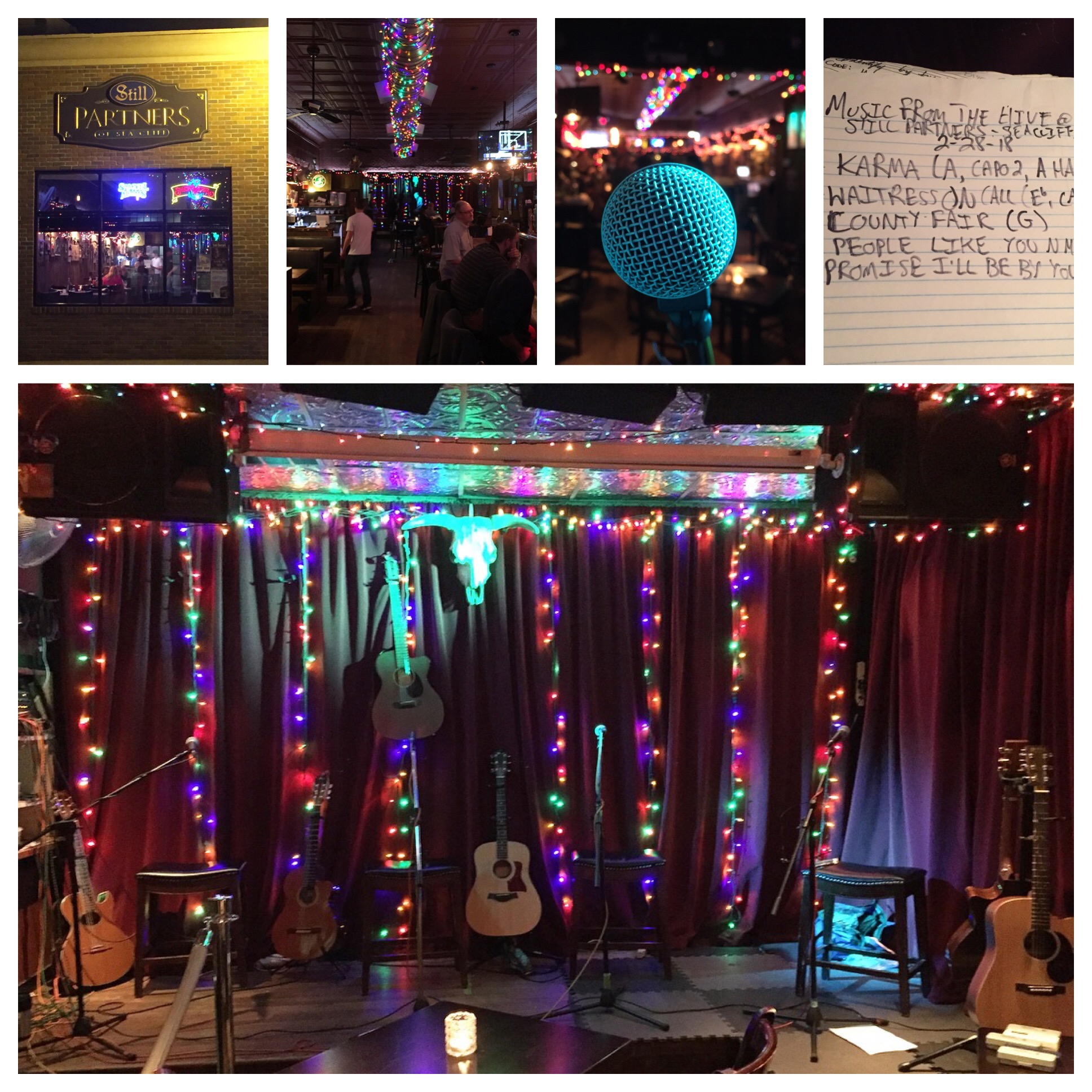 ... February 2018 has come and gone.  Nine scheduled shows performed in just 28 days, all while still dealing with all of the other things life decided to throw at me... and I surely wouldn't have it any other way.  Here's to hoping the rest of 2018 keeps rolling like this and I also find some time to sleep some.
-Bryan