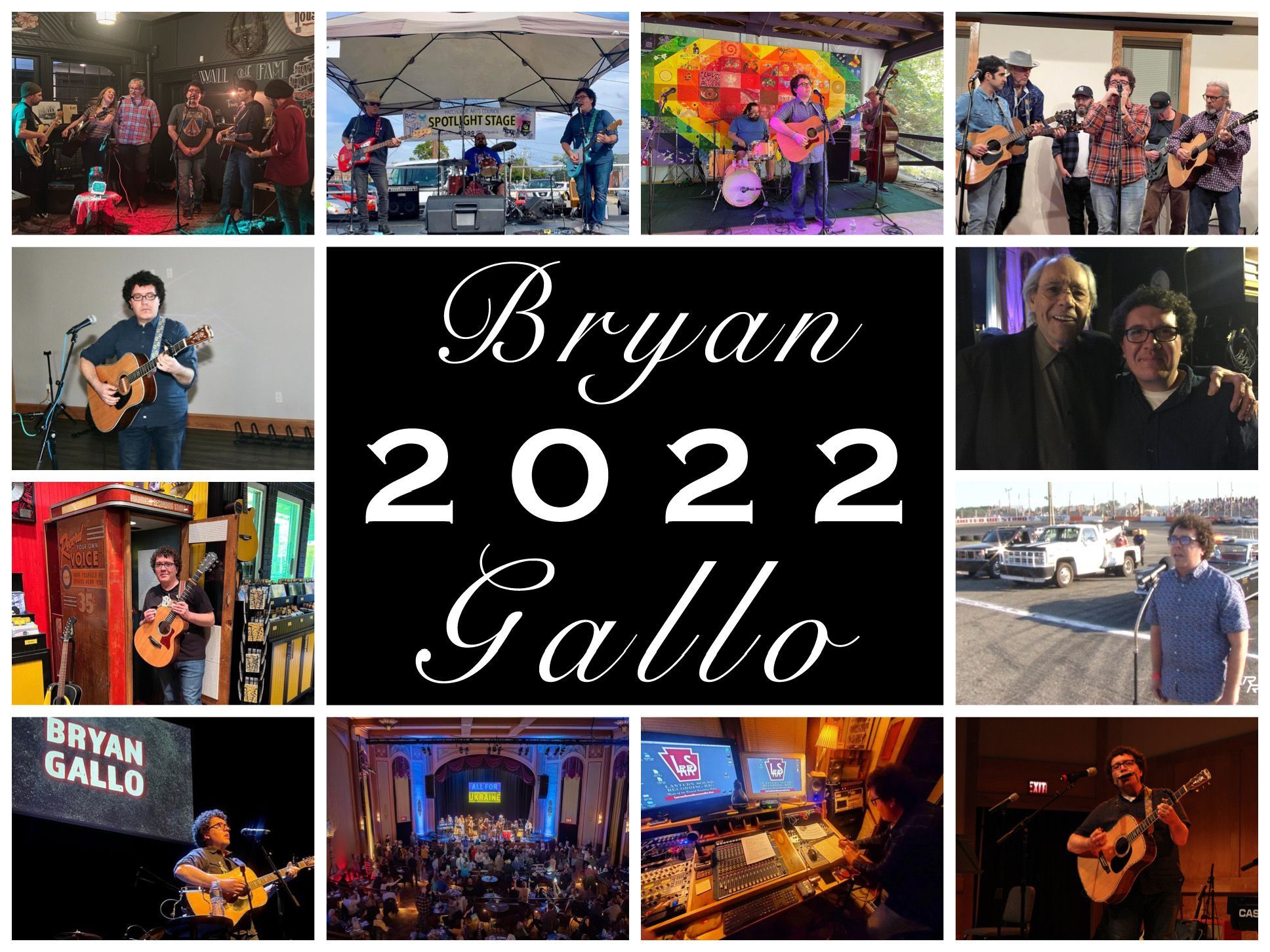 Two thousand twenty two wound up being quite an eventful year for me.  Seventy three gigs total, with three of them being private performances (two baby showers and a fundraiser for a very worthy cause on Fire Island).  I got a chance to perform to hundreds of people at the Suffolk Theater's All For Ukraine Benefit (sharing the stage with some musical legends such as G.E. Smith and Corky Laing) and got asked back to the Suffolk to do an opening set for storied comedian Robert Klein.  I also was called upon to sing the National Anthem at the Riverhead Raceway in front of hundreds of racing fans, which was quite the experience during one of the hottest days of the summer.  
I performed solo/acoustic, as an acoustic duo (with Mick Hargreaves joining on upright bass and vocals), as an acoustic trio (with Mick on the upright and vocals Nick Balzano joining on drums and vocals), and as an electric trio (joined by both Mick and Nick, with me plugging in the ol' Jagstang.)  
I performed at arts festivals, theaters, bars, restaurants, breweries, wineries, distilleries, flower gardens, community markets, farms, orchards, pumpkin patches, a race track, and on stages large and small. I joined many musical friends for unscheduled performances too at open mics, open jams, song circles, and song swaps.  Through these performances, I fostered old friendships and planted the seeds for new ones as well.  Aside from performing, I also continued work on my second full length studio album.  (I've had a lot of starts and stops in progress with this project since the beginning of 2019, and I'm *really* hoping to get some new music out to you in the new year.)  
I've also had many other things happen that didn't involve performances or recording.  It's been a year of notable life events including getting married to my lovely wife Michelle (followed with a fun honeymoon in Nashville) and also a year of learning how to live with the loss of one of my best friends, fellow songwriter Travis McKeveny.  It was a year of many changes, plenty of ups and downs, and lots of learning how to live as a "newer me".  It was a year that taught me to honor the past while still trying my best to keep moving forward.  
While I look at the current scheduled performances and plans for 2023, it looks to be a little "light". It's not always easy being a performing musician, with the many uncertainties that always seem to be abound. But thinking about this, I have to take a step back and remember that many of the things that happened this past year weren't planned from the get-go.  I started this year with a small springboard of events, and then opportunity presented itself for many things as time went on.  If there's something I've learned well in 2022 it's that once things get rolling just keep on rolling along with them, and hopefully, everything else that is meant to be will follow you.  
As always, I'm forever thankful for everyone's encouragement, love, and support. Be well, and I wish you all wonderful 2023!
- Bryan